Good facial care consists of more than just applying a cream every morning. For radiant skin, it is important to cleanse, nourish and protect your skin. Het Cosmetic House offers an extensive range.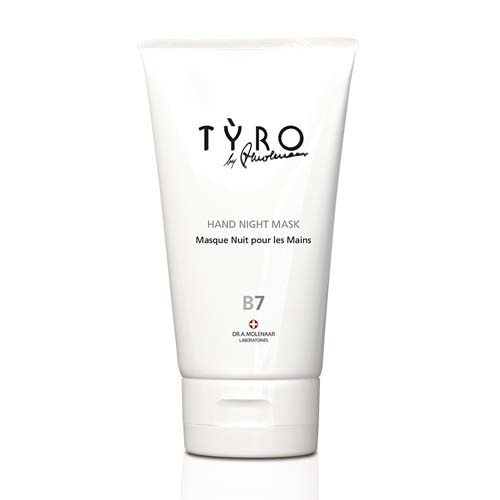 Tyro Hand Night Mask 150ml
Hand Night Mask A Rich, nourishing hand mask provides intense hydration and helps restore the skin's moisture barrier. The hands become velvety soft again. The benefits of Hand Night Mask: New formula! This product is a true bestseller within the TYRO range Not only for hands, but also elbows, knees and heels become smooth and soft again Indispensable in every bathroom The soft scent and creamy texture give a wellness experience How to use Hand Night Mask: Take a generous amount of product and massage it in extensively. For an even better effect, we recommend scrubbing the skin first with the TYRO Peach Scrub Cream. Skin type: Suitable for every skin type.
Give your hands a boost.
We use our hands daily and expose them to various external influences. Our hands, therefore, deserve a weekly intensive nourishing, moisturizing and caring hand mask. This is the product to boost the skin of your hands in terms of recovery and nutrition.
What does a hand mask do?
A hand mask gives the skin of the hands and the skin around the nails a boost. Often this is in the areas of nutrition, hydration, and collagen. Because of the intense hydration of a hand mask, your hands will be silky soft, smooth, and supple after using it. In addition, collagen guarantees long-term nutrition of the skin cells, recovery, and preventive protection when it comes to degradation of the collagen and elastin fibers.
How to use a hand mask?
Each hand mask has its instructions for use. Our advice is to peel your hands before using a hand mask. With a special hand peeling, you remove dead skin cells. This makes your skin smoother and ensures that the hand mask is better absorbed.