Good facial care consists of more than just applying a cream every morning. For radiant skin, it is important to cleanse, nourish and protect your skin. Het Cosmetic House offers an extensive range.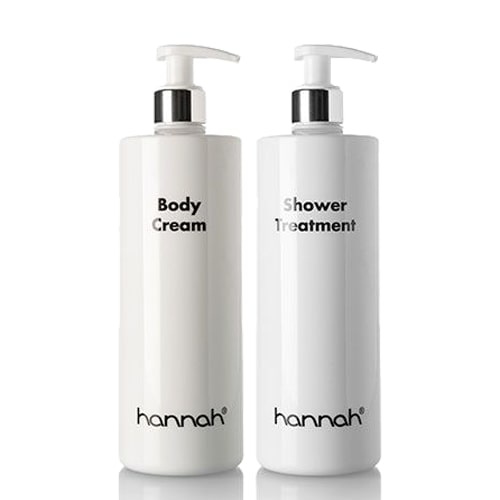 hannah Bath & Body set
hannah Bath & Body set The Bath & Body set from hannah contains two skincare products with which you can also give your body the care it deserves. Body Cream This product from the Bath & Body set has a high-quality, rich base of macadamia oil. This cream is rich in antioxidants and has soothing and softening properties for the skin. The added caffeine visibly firms the skin and acts as a robust and hydrating antioxidant. The result is smooth, firm, and resilient body skin. How to use the Body Cream: After showering, apply hannah Body Cream all over the body and firmly massage in. Shower treatment This product from the Bath & Body set is a rich, intensively nourishing, soothing shower oil based on soybean oil with a wonbeautifulesh scent and easy-to-use. Where needed, this rich formula restores the skin's lipid layer and is even perfect for very dry or sensitive skin. The addition of calendula stabilizes the pH level and has a skin-soothing effect. This active ingredient also has cleansing, anti-inflammatory, and anti-fungal properties. This significantly increases the skin's resistance to harmful external influences. Additionally, antioxidant vitamins C and E ensure smooth, beautiful, healthy skin and intensive regeneration. The result? A freshly scented, perfectly clean, and well-hydrated body skin. How to use the Shower Treatment: Take a small amount (the size of a euro) in the palm of your hand, apply it to the skin and mix it with water. The formula binds with the water and becomes a thin white substance. Then remove it in the shower.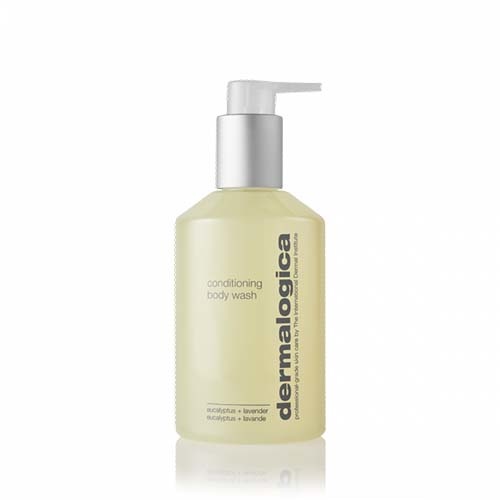 Dermalogica Conditioning Body Wash 295ml
Conditioning Body Wash This rich, nourishing body wash is skin neutral (pH value is equal to that of the skin), making it gentle on your skin. Body Conditioning Wash is suitable for the entire body and can be used in the shower or as a hand soap. Thanks to aromatic oils, your senses are stimulated while they thoroughly clean the skin without damaging the skin barrier. Pro-Vitamin B5 and Sandalwood, for example, take care of the skin and leave a fresh, radiant skin. The benefits of Conditioning Body Wash: A body wash that stimulates the senses Can be used as a hand soap Cleanses and softens the skin Soap-free cleaning formula (pH skin neutral) Suitable for all skin types How to use Conditioning Body Wash: Put a small amount in damp hands. Massage all over the body until a generous foam is created. It can also be used in the bath.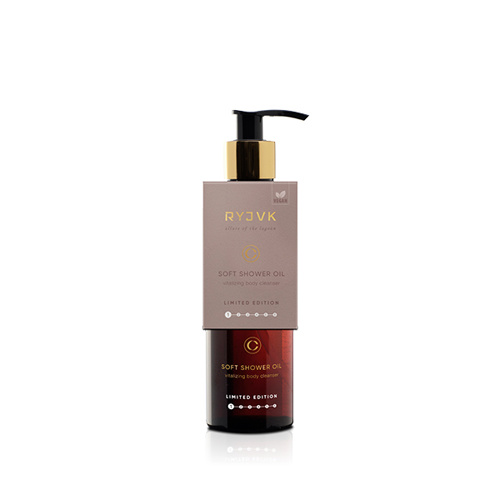 Cenzaa RYJVK Soft Shower Oil 200ml
Cenzaa RYJVK Soft Shower Oil Vitalizing body cleanserRYJVK Soft Shower Oil has a soft, melting oil-gel texture that gently but effectively purifies the skin, without drying the skin. In contact with water, this oil gel transforms into a fine, creamy foam that purifies, soothes, softens and moisturizes even the driest and irritated skin. Experience a vitalising and refining fragrance sensation while showering and discover how efficient and comfortable cleansing can be for the body. Thanks to its mild composition and special texture, this Soft Shower Oil is suitable for daily cleansing of all skin types, even the driest skin. The benefits of RYJVK Soft Shower Oil: Purifies, soothes, softens and moisturizes even the driest and most irritated skin. Enriched with vegetable emollients that nourish the skin while cleansing. Creates a vitalizing and refined fragrance sensation while showering. This product is 100% vegan & cruelty-free. How to use RYJVK Soft Shower Oil: Lather with damp hands and massage evenly over the body. Rinse generously with water. Combine with the Enriched Body Cream for the most optimal experience, ultimate nutrition and hydration of the skin and an extra beautiful result. Important ingredients: minerals (Copper Complex) AntioxidantsOlea Europaea Leaf BotanicsOlea Europaea Leaf vitamins (Citric Acid) Skin type: Young & Normal Skin, Dehydrated & Dry Skin, Mature & Older Skin, Tired & Stressed Skin, For Men
Why a shower oil?
Do you suffer from dry or irritated skin? A shower oil softens and nourishes your skin while showering. It provides extra hydration and leaves your skin feeling soft and supple. This is because a shower oil leaves behind a thin protective layer of the skin's lipids. This protective layer contributes to restoring the moisture balance of the skin.
How do you use shower oil?
While showering, apply the shower oil to damp skin. Then massage the oil with circular movements (until a soft foam form).