Good facial care consists of more than just applying a cream every morning. For radiant skin, it is important to cleanse, nourish and protect your skin. Het Cosmetic House offers an extensive range.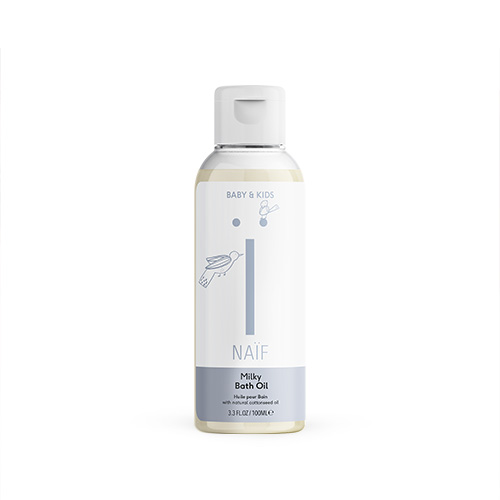 Naïf Milky Bath Oil 100ml
Naïf Milky Bath Oil Bathing your baby creates a bonding moment between you and your baby. Water alone can dry out fragile skin. The well-known Naïf Milky Bath Oil for Baby & Kids gently cleanses, nourishes and cares for the most sensitive baby skin, without drying out. Also good to use for (atopic) eczema. The oil turns into a milky substance when it comes into contact with water. A few drops are enough to moisturize and care for baby's skin. The soft scent in combination with the nice warm water ensures relaxation. Ingredients such as sunflower and linseed oil keep the skin soft and supple, but do not leave a greasy film. Ideal, because you will never have a slippery baby in your hands again. The benefits of Naïf Milky Bath Oil Natural ingredients Natural bath oil for baby and children Gently cleanses and nourishes baby's sensitive skin while bathing Provides bonding moment between parent and child Leaves no greasy film = no slippery baby Prevents itching, dry skin and irritation For all skin types, including atopic eczema. Economical in use Without hard foaming agents such as SLS/SLES Free from microplastics, parabens and mineral oils With soft, allergen-free Naïf fragrance Developed and produced in the Netherlands 100% vegan and ocean friendly Dermatologically tested Recommended by hospitals, maternity care and parents This is how you use Naïf Milky Bath Oil Fill the baby bath and add about 10ml (a few drops) of bath oil to the bath water. Mix briefly so that the oil is evenly distributed. And splash! Ingredients Caprylic/Capric Triglyceride, Coco-Caprylate/Caprate, Glyceryl Caprylate, Polyglyceryl-3 Palmitate, Parfum/fragrance, Gossypium Herbaceum (Cotton) Seed Oil, Tocopherol, Helianthus Annuus (Sunflower) Seed Oil, Bisabolol
Why a bath oil?
A bath oil protects dry or rough skin and restores and protects the natural skin barrier against (further) dehydration. The oil mixes with the bath water, after which the oil can penetrate the skin. Your skin will thus remain soft, provided with a layer of oil so that the moisture can be retained well. This protects the skin from drying out.
How do you use bath oil?
First of all, do not make the water of the bath too hot. Boiling and warm water dry out the skin even more. Add a few drops of bath oil to the bath water.