Good facial care consists of more than just applying a cream every morning. For radiant skin, it is important to cleanse, nourish and protect your skin. Het Cosmetic House offers an extensive range.
Neoderma, the new now, especially for the skin
Neoderma, the name has it all and tells it herself. Neo means new and completely contemporary. Derma means skin. Neoderma's skincare products are innovative and future-oriented. Focused on today's skin problems and developed according to the requirements that many users ask. Neoderma develops products without parabens, is petrolatum free, and does not add mineral oils. The entire product line is HALAL certified, manufactured without synthetic dyes, and not tested on animals. It is just a small selection of all requirements that the Neoderma brand meets because everything has been thought of. For example, the packaging is ecological, and all products retain their effectiveness up to the last drop. The latter can be guaranteed by the specially designed and airtight vials in which Neoderma products are packed.
Neoderma's mission is to design and create
Neoderma believes in people, values knowledge, and hopes to develop more excellent products by being creative and asking a lot of questions. Good cooperation is of great importance to this. After all, it is not only the employees at Neoderma who can make a product successful, but also the users, sellers, and consultants who play an essential role. A good product that is used in the right way will show the most results in the long term. Therefore, the experiences of users, sellers, and advisers are evaluated. From the first impression to the result. All findings are shared with all employees within the company and used to develop further and improve products.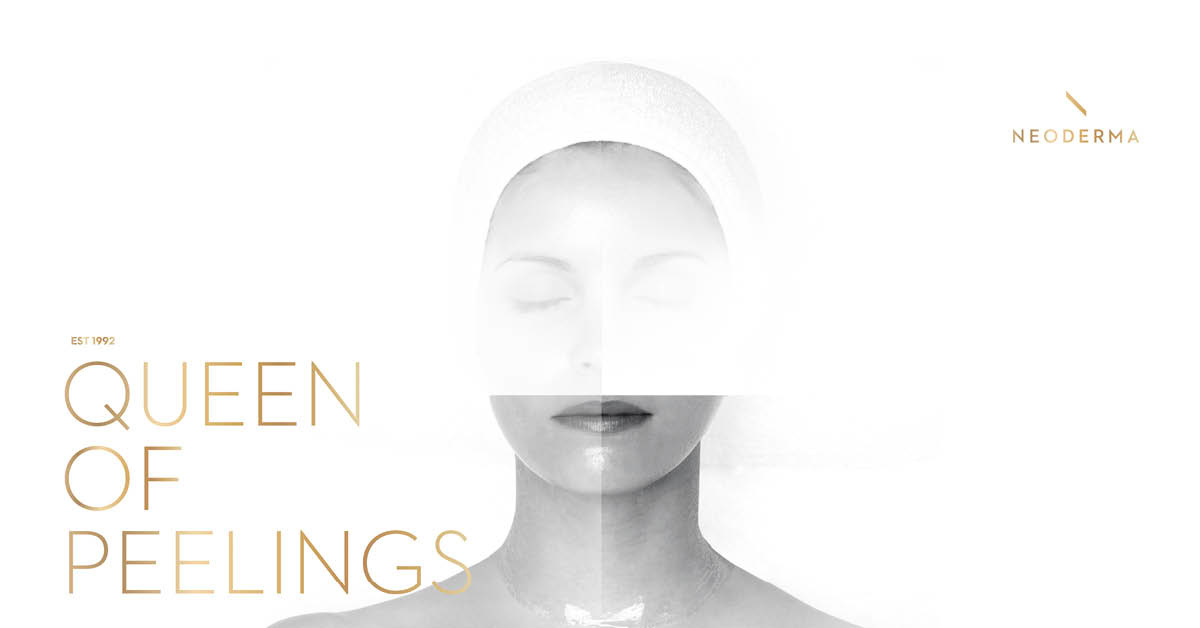 The different product lines of Neoderma
Neoderma Blue Blood, a serum and a fresh gel enriched with an oxygen carrier give the skin a real boost.
Neoderma Blue Blood Suncream, sunscreen with SPF30 in a light structure that protects well against UV rays and skin ageing. Available in three different versions, colourless, with a natural or a beige touch.
Neoderma Cleansers & Exfoliators, proper skincare, also includes good cleaning. After all, Neoderma's innovative products work best on clean skin. Neoderma has various cleaning products in the range. There is a choice of gel, lotion, milk, cream, scrub, micellar water, and foam.
Neoderma Balance, especially for young skin with acne. In this skincare line, you will find products that clean and balance the skin well. Excessive sebum production is counteracted, and the skin becomes fresh and smooth again.
Neoderma Defense, protect and repair the skin at the same time. The three different products complement each other perfectly and are suitable for dry and normal skin. The eye cream smoothes wrinkles around the eyes, reduces dark bags, and promotes a youthful look.
Neoderma Hydro is a complete line of moisturizing products for dry, dehydrated skin. Combats skin ageing and provides soft vital skin.
Neoderma Lift, five different products that boost the skin and provide a tighter facial contour. Clinically proven, the skin regains its youthful glow.
Neoderma Youth, intensively active products to improve older skin and make the skin firmer and firmer. Suitable for both men and women.
Neoderma White is a serum combined with a day and night cream to combat dark spots and discolouration of the skin. Protects and moisturizes the skin.
The cosmetics house
Neoderma and other innovative brands such as SkinCeuticals, Image Skincare, Cenzaa, hannah, and Dermalogica ensure that we have access to the best skincare products. Not everyone has healthy and beautiful skin, but with a well-chosen treatment, you can achieve a lot. If you experience problems with your skin, do not hesitate to contact us. Describe the skin problem carefully in our form and send a photo if necessary. We always do our utmost to advise the right products and treatments. However, if the information is not complete, or we believe that the skin should first be viewed by a professional, we will contact you.
Watch this video on YouTube