Good facial care consists of more than just applying a cream every morning. For radiant skin, it is important to cleanse, nourish and protect your skin. Het Cosmetic House offers an extensive range.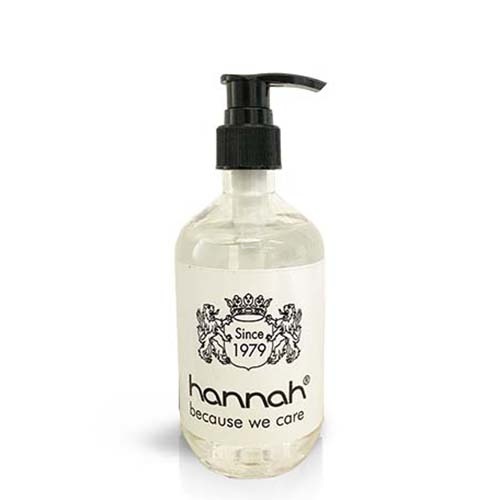 hannah Hand Sanitizer 300ml
Hand Sanitizer We come into contact with millions of bacteria every day. It is, therefore, essential to clean your hands regularly. hannah Hand Sanitizer is a disinfecting hand gel that offers the proper protection against bacteria.This gel disinfects the hands without having to rinse your hands with water. It helps maintain the skin's natural moisture and eliminates 99.99% of the most common germs, such as bacteria, yeasts, fungi, and certain viruses. Suitable for daily hand hygiene. Use as often as needed. Apply a small dose (3ml) of gel to dry hands. Rub the gel well on the hands, wrists, around the nails, and between the fingers for 30 seconds or until the product is dehydrated.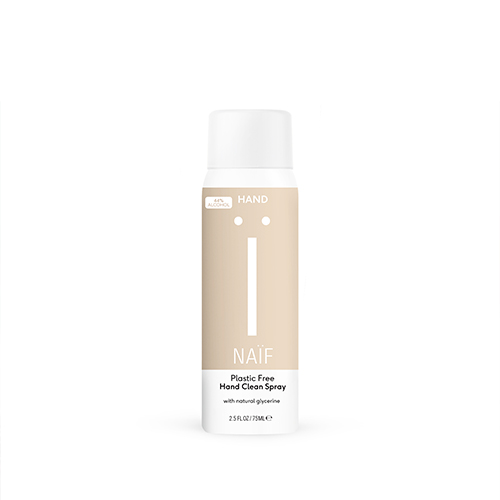 Naïf Plastic-Free Hand Spray 75ml
Naïf Plastic-Free Hand Spray 75ml Always handy to have a hand spray with you. Also for holidays or festivals. Always have one in your bag. Naïf Plastic-free Hand Spray is antibacterial, cleans, and cares for without using soap and water. 'Fine, but alcohol dries out, doesn't it?' No worries, the vegetable glycerine ensures that your hands do not dry out. Did you know that almost all hand gels contain microplastics? This hand spray is 100% plastic-free. Good for the planet. Also good to know: the spray comes in a handy size, so you can easily take it with you wherever you go. The spray absorbs quickly and does not leave a sticky layer, so you can immediately continue what you were doing. The benefits of Naïf Plastic-Free Hand Spray Natural ingredients Antibacterial Cleans hands without soap and water Moisturizes the skin with vegetable glycerine Absorbs quickly, does not stick In handy spray for on the go Formulated with 44% ABV For all skin types, including sensitive skin Free from microplastics Developed and produced in the Netherlands 100% vegan and ocean-friendly Dermatologically tested How to use Naïf Plastic-Free Hand Spray Hand Spray 2 or 3 times in your hands and rub your hands for about 20 seconds until they are dry. Ready! Ingredients Alcohol Denat., Aqua/Water, Dimethyl Ether, Glycerin.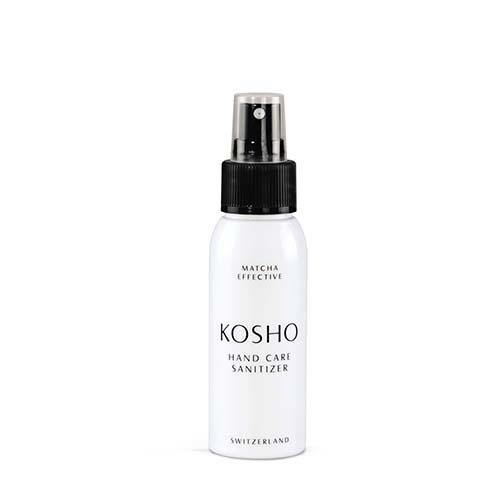 Kosho Hand Care Sanitizer 60ml
Hand Care Sanitizer – antibacterial, nourishing hand spray Kosho Hand Care Sanitiseris the perfect protection for carrying with you on the go. It removes any viruses or bacteria from your hands with 70% organic, purely plant-based alcohol. It also nourishes the skin with plant-based active ingredients and makes dried-out hands feel silky-soft. In addition, the Hand Care Sanitiser has a delicate fragrance, and you only need to use it a little at a time –making it an absolute must-have. How to use Kosho Hand Care Sanitizer Spray onto your hands and gently rub in several times a day or as needed to kill any viruses and prevent infection immediately. Perfect for on the go. Kosho Hand Care Sanitizer contains the following ingredients Alcohol (Bio-Ethanol)1, Aqua (Water)2, Glycerin2, Isopropanol, Polyglyceryl-10 Laurate2, Camellia Sinensis Leaf Extract1, Leuconostoc/Radish Root Ferment Filtrate2, Aloe Barbadensis Leaf Juice Powder1, Hydrolyzed Wheat Protein2, Fragrance (Perfume), Citric Acid2, Sodium Benzoate, Limonene2, Citronellol2, Citral21 organic / 2 natural   Without PEGs, silicones, mineral oils, parabens, preservatives   Characteristics Vegan, non-comedogenic      
What is hand sanitizer?
Hand disinfection is the disinfection of hands with hand alcohol/hand disinfectant gel. This is done on dry hands.
Advantages of hand disinfection
The advantage of hand disinfection is that it is a faster and more effective way of cleaning hands. It kills almost all microorganisms present in the hands.
Treating your hands with hand disinfection also causes more minor damage to the skin than washing hands with soap and water. Water and soap can dry out your hands.
Another advantage is that you do not need water with hand sanitizer. For example, are you on the road and don't have water available? Then you can still clean your hands with hand disinfection.
How to use hand disinfectant gel
Put the hand disinfectant in the palm of your dry hand so that the hollow of your hand is filled with gel.
Rub the palms of your hands over each other
Rub the palm of your hand over the back of your other hand
Rub between your fingers, with the palms of your hands together
Squeeze your fingers together and rub the back of your fingers against the palm of your other hand
Swirl the thumb of your hand around in your fist of your other hand (repeat for the other thumb)
Rub the tips of your fingers into the palm of your other hand
Let your hands' air dry for about 10 seconds