Good facial care consists of more than just applying a cream every morning. For radiant skin, it is important to cleanse, nourish and protect your skin. Het Cosmetic House offers an extensive range.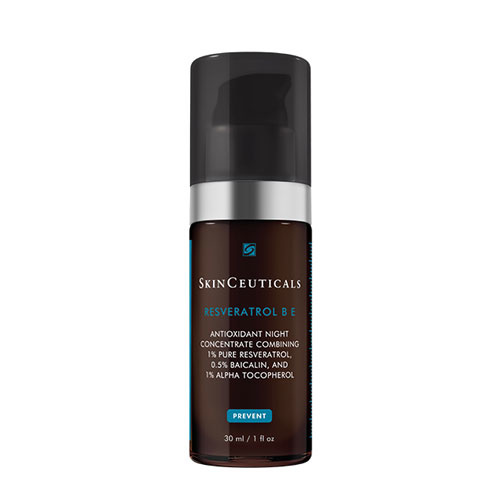 SkinCeuticals Resveratrol B E 30ml
Resveratrol BE Resveratrol BE is a concentrated night serum to repair the damage of the day, an antioxidant boost for mature skin with pure antioxidant-rich resveratrol for visibly radiant and firm skin. Resveratrol BE is a first concentrated night serum of its kind that combines a maximized concentration of pure, stable resveratrol with baicalin and pure vitamin e for optimum antioxidant performance. This patented antioxidant cocktail neutralizes free radicals, strengthens the skin's natural immune system, and reveals visible, radiant, and firm skin. Resveratrol is known as the "longevity" molecule. This powerful antioxidant helps boost the internal immune system to neutralize free radicals, and studies have shown that it also has benefits in anti-aging skincare. Minimalize. Besides, the formula has a combination of 0.5% baicalin and 1% pure vitamin e (alpha-tocopherol) to enhance the anti-aging benefits. The benefits of Resveratrol BE: Neutralizes free radicals and strengthens skin's immune system Antioxidant boost Reduces visible signs of skin aging, improves skin firmness and density Addresses the damage that the skin has suffered during the day during the night Ideal for normal, dry and combined skin type Night serum How you use Resveratrol BE: In the evening, after cleansing: apply 1-2 pumps to a dry face, neck, and décolleté.
What is resveratrol?
Resveratrol is a powerful antioxidant found in nature. It is a plant compound that acts as an antioxidant. Resveratrol, therefore, protects against free radicals, helps protect the skin's surface, and refreshes a dull complexion. The calming properties of this ingredient also help counteract redness.
Benefits of resveratrol
Reduces inflammation
Helps skin repair itself and correct visible damage
Strengthens the skin's natural defenses
Reveals radiant skin
Reduces skin aging
Is resveratrol suitable for me?
Resveratrol is fragrance-free and is suitable for normal, dry, and combination skin types.